Welcome to Master Brown's Karate School | Events
Upcoming Events
---
FALL SCHEDULE OF EVENTS
December 8
Parents Night Out
December 13
Christmas Party
December 22 thru January 7
No Classes Christmas Holidays
(Classes Resume Monday January 8)
---
Parents Night Out
This years parents night out is scheduled for
Friday December 8 from 6:00 pm till 10:00 pm.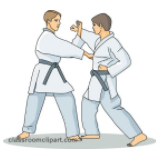 The cost is $35.00 for each child. You may also bring siblings or friends of your children that are not students.
This event is limited to the first 20 children to sign up.
Please see Mrs. Deana to register and save your spot for this fun and informative event.